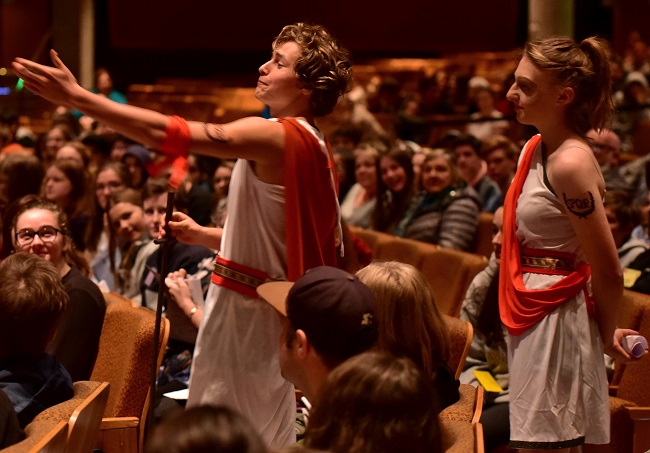 Events in 2019
20 March – 12 April: SGCNZ 24 Regional University of Otago Sheilah Winn Shakespeare Festivals
29 April: Dance Nimble Soles
Up to 3 minute original choreographic items inspired by Shakespeare, Hannah Playhouse, Wellington – part of DANZ's NZ Dance Week on International Dance Day – 7.30pm and afternoon performance if response demands
30 May – 3 June: SGCNZ National University of Otago Sheilah Winn Shakespeare Festival
Public Performances 1 June 9.30am-5.30pm & 2 June 9.00am-5.00pm; 7.00pm-9.30pm,
Michael Fowler Centre – details will be on the website once the 48+ scenes have been selected from the Regional Festivals nationwide. Bookings at ticketmaster.co.nz
29 September – 7 October: SGCNZ National Shakespeare Schools Production
46 Acting and Student Directing Students chosen from the Regional and National Festivals, plus the Supreme Winners of SGCNZ Costume Design and SGCNZ/Morrison Music Trust Music Composition Competition for a week long intensive of workshops and rehearsals – culminating in public performances in Wellington on Saturday 5 and Sunday 6 October – details will be posted closer to the time
5 – 24 July: SGCNZ Young Shakespeare Company
The 24 students selected from SGCNZ National Shakespeare Schools Production 2018 spend two and a half weeks on this prestigious study and performance tour, at Shakespeare's Globe and Stratford-Upon-Avon.
Public Performance of scenes from Henry V on 18 July at 11:15pm at Shakespeare's Globe, London. Bookings only via higher.education@shakespearesglobe.com, no later than 48 hours prior to the performance
5 & 7 November: SGCNZ Primarily Playing with Shakespeare – Twelfth Night
performed by primary school students 12.30-1.30pm – details will be posted closer to the time
Other performances and seminars are often added at various times – watch this space – they will be included!
---
Provisional dates for 2020
20 March – 9 April: SGCNZ 24 Regional University of Otago Sheilah Winn Shakespeare Festivals 
29 April: Dance Nimble Soles
Up to 3 minute original choreographic items inspired by Shakespeare, Hannah Playhouse, Wellington –
part of DANZ's NZ Dance Week on International Dance Day – 7.30pm and afternoon performance if response demands
28 May – 1 June: SGCNZ National University of Otago Sheilah Winn Shakespeare Festival
Public Performances 30 May 9.30am-5.30pm & 31 May 9.00am-5.00pm; 7.00pm-9.30pm,
Michael Fowler Centre – details will be on the website once the 48+ scenes have been selected from the Regional Festivals nationwide. Bookings at ticketmaster.co.nz
26 September – 4 October: SGCNZ National Shakespeare Schools Production
46 Acting and Student Directing Students chosen from the Regional and National Festivals, plus the Supreme Winners of SGCNZ Costume Design and SGCNZ/Morrison Music Trust Music Composition Competition for a week long intensive of workshops and rehearsals – culminating in public performances in Dunedin on Friday 2 and Saturday 3 October – details will be posted closer to the time
3 & 5 November: SGCNZ Primarily Playing with Shakespeare
performed by primary school students 12.30-1.30pm – details will be posted closer to the time