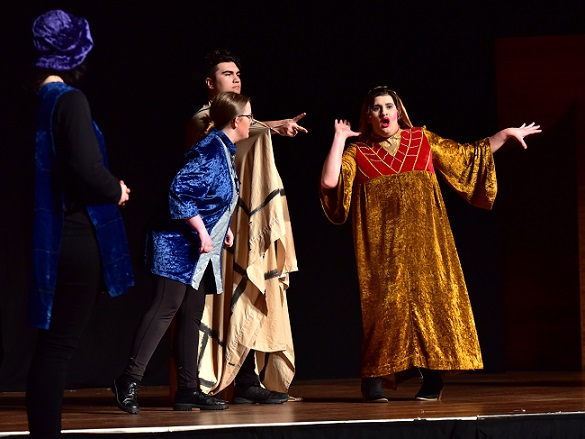 SGCNZ News
Results for the SGCNZ National UOSWSF are out now
Results for the SGCNZ Competitions are out now
View the list of finalists for SGCNZ's 2019 Competitions
Results for the SGCNZ Wellington Regional UOSWSF are available now
Re SGCNZ UOSWSF, allied Competitions, SGCNZ YSC & SGCNZ NSSP & other activities
It takes only 5 minutes to complete!
Please all participants in SGCNZ's activities between 12 and 24 years old do this Ministry of Youth Development survey.
We need you to be one of the 3500 people required by MYD to complete this survey in order for us to receive their funding. Please – favourably – describe your experience of being involved in any of our activities in whatever capacities – acting, directing, mentoring, crew, front of house, MCs, Assessors, teaching, volunteering…. From the age range of 12 – 24, it is clear that it is not just for those still at school!
Any queries about this, please contact Dawn Sanders, dawn@sgcnz.org.nz
M: 027 283 6016 P: 04 384 1300
---
Announcing a new programme – SGCNZ Dance Nimble Soles!
In association with DANZ and its NZ Dance Week, SGCNZ is offering a new programme in the Wellington region. This is the opportunity for an item to be choreographed, in any dance genre and ethnicity, of up to 3 minutes for between 2 and 25 dancers of any age. They will be performed on International Dance Day – Monday 29 April, hosted at Hannah Playhouse at 7.30pm, with an afternoon session as well if interest demands. See here for more information. 
---
SGCNZ Shakespeare-On-Demand Video Subscription Service
Glass Gecko Films is providing a new service: SGCNZ Shakespeare-On-Demand (SOD) Video Subscription Service. An excellent resource for schools participating in SGCNZ events or as exemplars and aids for Drama and English Departments. Go to Glass Gecko's website for more information.
---
A fantastic evening with talented women at the NEXT Magazine Woman of the Year 2018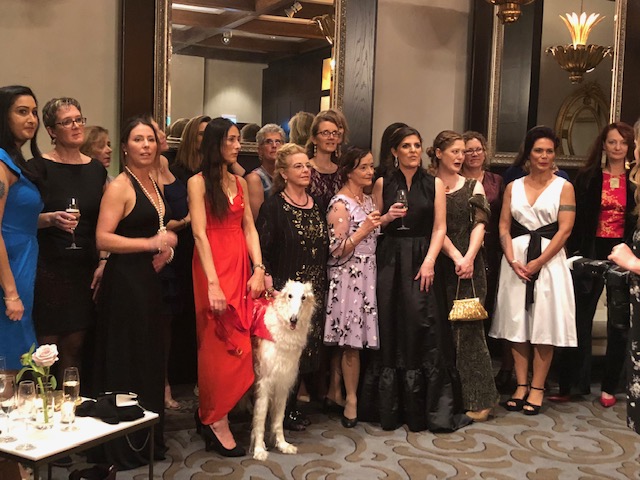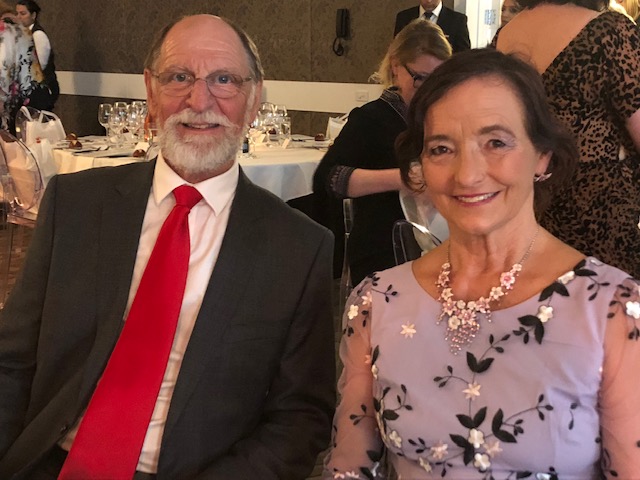 SGCNZ CEO Dawn Sanders at the NEXT Magazine Woman of the Year Awards in Auckland with her partner Graeme Sanders
---
SGCNZ Young Shakespeare Company 2019
SGCNZ is delighted to announce the members of the SGCNZ Young Shakespeare Company 2019! Congratulations to all 24 of you.
---
SGCNZ is now on Instagram! Hooray!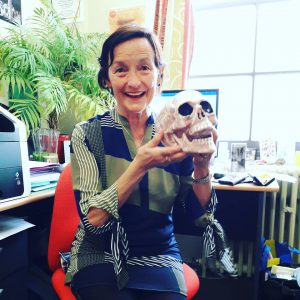 We aim to focus on Shakespeare (obviously), theatre, New Zealand, and the people within those communities, especially our alumni of SGCNZ. Please follow us and help us spread the word on the birth of our new social media platform! Our handle is @sgcnz. We are very excited and hope to see all of your smiling faces.
---
Congratulations to our CEO, Dawn Sanders, who has been selected as a finalist in the Elizabeth Arden and NEXT Woman of the Year awards
Dawn is one of five exceptional women nominated in the Arts and Culture category. The other categories are Business and Innovation, Community, Education, Health & Science and Sport. Dawn said "It's a great thrill to have SGCNZ profiled so prominently and a wonderful reflection of all the people who participate in our activities."
There will be an awards ceremony in Auckland on the 11th of October, where the winners of each category and the supreme winner are announced. For more information, see the NEXT Magazine article. 
---
SGCNZ Alumni Miryam Jacobi has directed a documentary on eating disorders
A new documentary made by young Kiwi film-makers will resonate with the thousands of New Zealanders who have lived through the hell of an eating disorder.
Disorder, an intimate insight into the perspectives of New Zealanders who have lived with disordered eating, is one of six short films by emerging film-makers commissioned as part of The Outlook for Someday project.
In the documentary, created by director Miryam Jacobi and producer Olivia Mahood, seven young people share their journeys from despair to acceptance after long, dark periods of disordered eating patterns and self-loathing.
---
SGCNZ Alumni The Candlewasters have created a new series
Tragicomic is a part webseries, part webcomic inspired by William Shakespeare's Hamlet that will be launching on YouTube and the RNZ website on the 3rd of August 2018 – "High school sucks when you're basically Hamlet." It follows Hannah Moore, world weary and fifteen years old, an aspiring cartoonist searching for the truth about her missing dad. You can watch the Tragicomic Trailer HERE
The Candlewasters are a team of four young women (and a token dude) from Wellington. They are Claris Jacobs, Minnie Grace, Elsie and Sally Bollinger, and Robbie Nicol. The key creative team are all 25 and under. With help from New Zealand On Air, they make fierce, funny, feminist webseries that have so far amassed over 5 million views worldwide.
www.youtube.com/user/thecandlewasters
---
Summer Shakespeare Smash!
SGCNZ Alumnus Peter Hambleton (SG IAF 2002) has convinced the critics with his production of the 2017 Wellington Summer Shakespeare All's Well That Ends Well.
Ewen Coleman's review in the Dominion Post highly praised the accomplished director/actor as well as the whole cast of the production.
"The choice of play for this year's Summer Shakespeare is one of the Bard's more challenging ones.  All's Well That Ends Well is often regarded as a dark comedy.
Yet under the direction of Peter Hambleton, this year's production has met the play's challenges head on with a very spirited, highly energised and intelligent presentation of the play."
Hambleton's production of All's Well does not only captivate the audience, but also engages them in the action of the play, just as in Shakespeare's day and age.
"The audience too, play a major part in the production in the way the actors work in and around them, even having one or two of them take part on occasions, so that they, the audience, are almost like another character within the play."
---
Shakespearean actor Mark Rylance to be knighted
"Mark Rylance, the first artistic director of the recreated Shakespeare's Globe theatre in London, has been given a knighthood in the New Year's honours list.
The Oscar-winning actor, 56, was in the job for 10 years and has been honoured for services to theatre after first performing professionally in 1980. He won his Academy Award for best supporting actor in 2015's Bridge of Spies.
But it was his work on the stage, where Mr Rylance is widely regarded as one of the greatest actors of his generation, that earned him a knighthood.
Hailed as a natural chameleon, at the Globe he transformed from a severe Henry V to a feminine Olivia in Twelfth Night, though his defining theatre performance of his career so far remains that of his strutting, brutish Johnny "Rooster" Byron in Jez Butterworth's play Jerusalem, which originally ran at the Royal Court and which earned him a Tony Award in the US." – The Independent, 31 December 2016
Congratulations from Shakespeare Globe Centre NZ!
---
Ray Henwood new SGCNZ Patron
Welsh-born actor and founding member of Circa Council Ray Henwood ONZM is the new patron of Shakespeare Globe Centre New Zealand. After Dame Kate Harcourt unfortunately had to resign from her position as patron, SGCNZ approached Ray Henwood, who had played King Lear himself in Circa's 2016 production of Shakespeare's tragedy. As Circa Theatre and SGCNZ have a long history together, and many SGCNZ Alumni can be seen in Circa's productions, the choice was an easy one for both sides.
"I have had the privilege of playing in many of Shakespeare's plays, the latest being King Lear at Circa in May 2016. When Downstage reopened at the Hannah Playhouse, I played in All's Well that Ends Well under the direction of Sunny Amey. My first role was the young king in Henry V, at the age of eighteen. (…) It is always a pleasure to see SGCNZ Alumni regularly in cast and crew at Circa. I am pleased and honoured to be appointed as a Patron to SGCNZ and look forward to interacting with its events even more in the future." – Ray Henwood ONZM