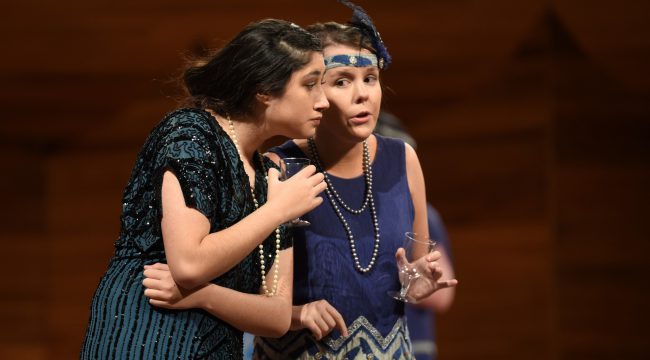 SGCNZ News
The list of students selected for NSSP 2018 is now available. 
Congratulations to all the students chosen.
Results are out for the 2018 SGCNZ UOSWSF!
Congratulations to all the participants and award winners at this year's festival. Click here to view the list
---
Help us keep SGCNZ going! – Ministry of Youth Development Survey
Re SGCNZ UOSWSF, allied Competitions, SGCNZ YSC & SGCNZ NSSP & other activities
Participant Feedback link: https://www.surveymonkey.com/r/SGC_NZ
We are asking all participants in SGCNZ's activities between 12 and 24 years old to please complete this survey from the Ministry of Youth Development.
Funding from this source is contingent on us having at least 1500 people respond – favourably – about their experience of being involved (in whatever way – acting, directing, mentoring, crew, front of house, MCs, Assessors…). From the age range, it is clear that it is not just those still at school!
We are extremely grateful to the Ministry of Youth Development for increasing our grant! In the name of Shakespeare Globe Centre New Zealand and all its participants and alumni we would like to say: thank you!
Any queries about this, please contact Dawn Sanders, sgcnz.dawn@gmail.com  M: 027 283 6016 P: 04 384 1300
---
Summer Shakespeare Smash!
SGCNZ Alumnus Peter Hambleton (SG IAF 2002) has convinced the critics with his production of the 2017 Wellington Summer Shakespeare All's Well That Ends Well.
Ewen Coleman's review in the Dominion Post highly praised the accomplished director/actor as well as the whole cast of the production.
"The choice of play for this year's Summer Shakespeare is one of the Bard's more challenging ones.  All's Well That Ends Well is often regarded as a dark comedy.
Yet under the direction of Peter Hambleton, this year's production has met the play's challenges head on with a very spirited, highly energised and intelligent presentation of the play."
Hambleton's production of All's Well does not only captivate the audience, but also engages them in the action of the play, just as in Shakespeare's day and age.
"The audience too, play a major part in the production in the way the actors work in and around them, even having one or two of them take part on occasions, so that they, the audience, are almost like another character within the play."
---
Shakespearean actor Mark Rylance to be knighted
"Mark Rylance, the first artistic director of the recreated Shakespeare's Globe theatre in London, has been given a knighthood in the New Year's honours list.
The Oscar-winning actor, 56, was in the job for 10 years and has been honoured for services to theatre after first performing professionally in 1980. He won his Academy Award for best supporting actor in 2015's Bridge of Spies.
But it was his work on the stage, where Mr Rylance is widely regarded as one of the greatest actors of his generation, that earned him a knighthood.
Hailed as a natural chameleon, at the Globe he transformed from a severe Henry V to a feminine Olivia in Twelfth Night, though his defining theatre performance of his career so far remains that of his strutting, brutish Johnny "Rooster" Byron in Jez Butterworth's play Jerusalem, which originally ran at the Royal Court and which earned him a Tony Award in the US." – The Independent, 31 December 2016
Congratulations from Shakespeare Globe Centre NZ!
---
Ray Henwood new SGCNZ Patron
Welsh-born actor and founding member of Circa Council Ray Henwood ONZM is the new patron of Shakespeare Globe Centre New Zealand. After Dame Kate Harcourt unfortunately had to resign from her position as patron, SGCNZ approached Ray Henwood, who had played King Lear himself in Circa's 2016 production of Shakespeare's tragedy. As Circa Theatre and SGCNZ have a long history together, and many SGCNZ Alumni can be seen in Circa's productions, the choice was an easy one for both sides.
"I have had the privilege of playing in many of Shakespeare's plays, the latest being King Lear at Circa in May 2016. When Downstage reopened at the Hannah Playhouse, I played in All's Well that Ends Well under the direction of Sunny Amey. My first role was the young king in Henry V, at the age of eighteen. (…) It is always a pleasure to see SGCNZ Alumni regularly in cast and crew at Circa. I am pleased and honoured to be appointed as a Patron to SGCNZ and look forward to interacting with its events even more in the future." – Ray Henwood ONZM