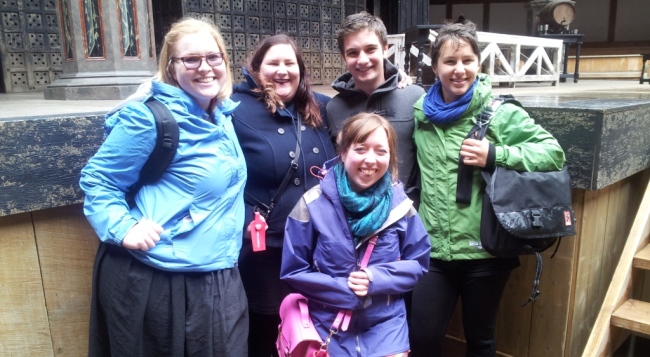 SGCNZ Emerging Theatre Practitioner Programme 2015
Five emerging theatre practitioners were selected for the inaugural SGCNZ Emerging Theatre Practitioners' Programme in 2015. This programme was designed to provide professional development for post-tertiary young theatre practitioners.
"After two and a half months in London, I learnt a huge variety of techniques and strategies with which to approach Shakespeare in future situations, as well as learning about the institution of Globe Education and life in general. This was a valuable and enriching experience." – Kelly Harris, SGCNZ ETPP 2015    
"To travel and devote a concentrated amount of time learning with Globe Education is an amazing privilege." – Samuel Phillips, SGCNZ ETPP 2015
Outline:
Offered through SGCNZ, the Emerging Theatre Practitioners Programme is designed to provide a new opportunity for those post SGCNZ's Shakespeare Festivals and pre-'mid-career' status.
Programme:
Aimed at approximately 22-34 year olds, it is proposed that the inaugural SGCNZ Emerging Theatre Practitioners Programme will take place in 2015. You can do any one or more of the 'Stages' or the whole 'circuit', taking about 5 months and comprising:
Stage 1 April-June – Internship for 3 months at Shakespeare's Globe
Stage 2 Dates tbc – Internship based at the Folger, Washington DC & visit to Blackfriars
Stage 3 Dates tbc – Internship for 4 weeks approx with An Eagle's Nest Theatre in Australia on a Shakespeare production and workshop
Outcomes:
The primary focus will be on the following outcomes for the participants:
– provision of professional development in a range of environments, with leading tutors, actors and directors
– acquisition of new skills and concepts which can be utilised and shared in New Zealand
– establishment of international contacts
Cost:
Globe Fee £1000 (approx)
PLUS:
– an around-the-globe air fare
– hostel accommodation
– food & local travel
– theatre tickets and incidentals
Brief Content
At the Globe, UK – proposed to include:
Workshops on: Voice, Movement, The Jig, Text, Directing scenes
Shadowing and supporting Globe Education Practitioners who are working with schools on the Our Theatre Project. This will culminate in a performance on the Globe stage
Working with the two Youth Theatres
Observing Lively Action workshops for students of all ages
Guidance on planning and delivering school based projects
Attending the two training sessions provided by Globe Education for their practitioners – the sessions are on meeting the needs of students on the autism spectrum and working with international students
Exploring the Globe resources on Shakespeare and Elizabethan theatre

At the Folger, USA:
Tour and talks on the famous Folger Library
Sessions on performance-based teaching
Close reading, physicalising and enacting the text; cutting scenes
Working with their practitioners and outreach programme
Assisting with their Festival and Family Programme
Attending performances
Visiting Blackfriars, Staunton, Virginia
With Eagle Nest Theatre, Australia:
Observe and be involved with the planning, development and delivery of its Shakespeare schools', Shakespearean and other theatrical workshops programme
Learning sessions
Be involved in the development of a production by Eagle Nest Theatre
Watch this space for information about the next SGCNZ Emerging Theatre Practitioners Programme!