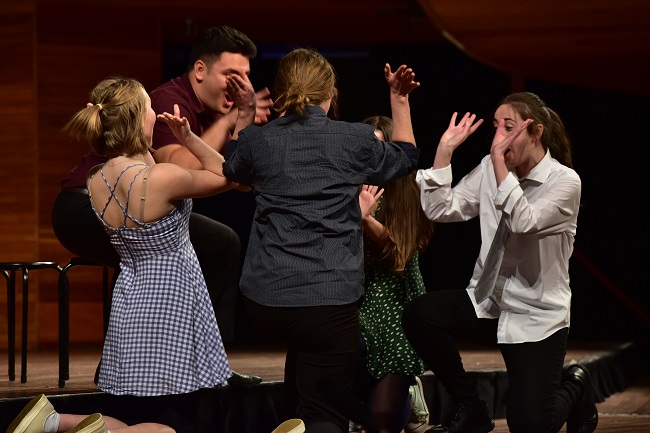 Sponsorship & Donations
"SGCNZ … relies heavily on sponsorship and donations … so if you or someone you know has a wealthy great-aunt who could spare money for the wonderful organisation that shapes the futures of so many young people, SGCNZ would be so grateful." – Blaise Clotworthy, SGCNZ YSC 2011
Shakespeare Globe Centre New Zealand needs to raise over $750,000 each year in cash and in-kind to provide its opportunities and activities. Some 5750 participants benefit, and more than 200,000 fill theatres and halls annually to enjoy the performances by our young people.
Registered with the Charities Commission, CC 23945, SGCNZ provides charitable donee status receipts; you gain 1/3rd rebate, and as much or as little acknowledgement as you wish.
Do you appreciate SGCNZ's performances or the individual's growth you have witnessed? Do you appreciate what your child or relative has achieved? Do you want to 'give back' to the organisation as an Alumnus or supporter of SGCNZ?
There is a multiplicity of ways to contribute, which include:
Weekly/ fortnightly / monthly donations paid by direct credit into SGCNZ's account
Payroll Giving – where your workplace deposits regular designated amounts of your salary into SGCNZ's account and you gain rebates as you pay
One-off donations
Hardship Fund contributions for SGCNZ Young Shakespeare Company members
Donations for other specific individuals in SGCNZ associated activities
Prizes for SGCNZ's Festivals and Competitions
Advertise in our magazines and programmes
Naming rights sponsorship of certain events
'The List' of 'tagged' funding requirements of SGCNZ
Corporate sponsorship
Make an annual pledge
1000 Club Membership – give $1000 once or annually or biennially…
Living bequests – watch your money benefit its recipients
Bequests – leave money to facilitate the longevity of SGCNZ or for a specific purpose
Any other ways you might like to suggest!
Become a Friend of SGCNZ and contribute to the continuance of the organisation – and receive four issues of Accent on Shakespeare – SGCNZ News plus certain discounts and advice regarding opportunities, auditions, special showings and performances and more!
Shakespeare Globe Centre New Zealand gratefully acknowledges support from the following: