SGCNZ ALUMNUS
Erin Harrington (SGCNZ NSSP 1997 & 1998, SGCNZ YSC 1999)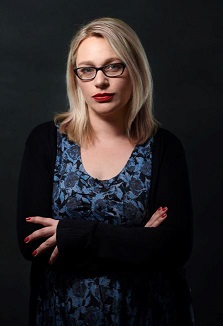 Erin Harrington is an academic, writer and critic. SGCNZ NSSP (1997, 1998) and SGCNZ YSC (1999) were transformative and foundational experiences for her as a creative practitioner (performer, director and critic) and later as a scholar and teacher. Erin has a PhD in Cultural Studies and is a lecturer in English and Cultural Studies at the University of Canterbury. She re-experienced the joy and raw buzz of the SWFSS as a judge for the 2015 and 2016 SGCNZ Canterbury Regional UOSWSF.
She spent much of her time as a university student on stage and directing plays, including The Threepenny Opera in 2011. She has shifted her focus to directing and performing in boutique, one-off performance events, such as a charity performances (including Carol Ann Duffy's The World's Wife and other evenings of monologues), and a night of live radio plays based on Alfred Hitchcock films (Vintage Hitchcock).
Erin also directed a rehearsed reading of Sarah Delahunty's Eating the Wolf (2016) and wrote, directed and co-produced Free Radicals, an experimental staged song cycle featuring seven new works from female composers, which was a featured event in WORD Christchurch 2018.
Photo of Erin by Emma Brittenden.