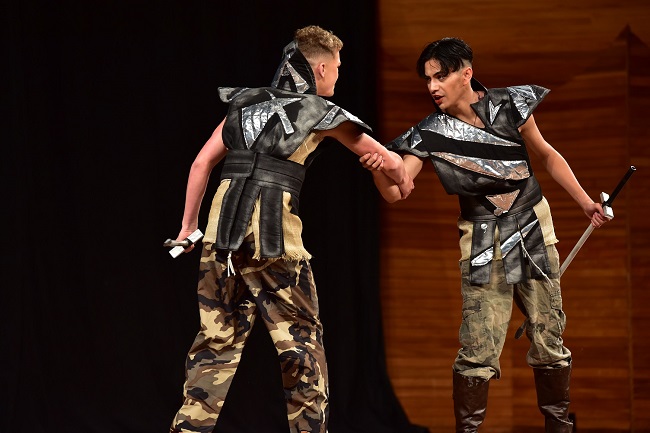 Become a Friend of SGCNZ
Download the SGCNZ Friends Subscription Form
SGCNZ Friends Subscription Form for schools, tertiary institutions and professional organisations
Download the 1000 Club Member Form
'Sheilah Winn' [SGCNZ UOSWSF] was a huge part of my development as a teenager… You meet people all over the country who have been involved with 'Sheilah Winn' from all different years. I went back and taught at Unitec in 2010 and I met kids who had only just been through it a couple of years beforehand. It is really something quite special.
I was just working with Rawiri [Paratene], so had been told the story about his wonderful journey with the Globe. It's what actually got me thinking about everything all over again. Not that it was ever far from my memory. Matu [Ngaropo] is one of my best friends… It was actually because of 'Sheilah Winn' we became friends (common bond etc). Also Phillip Rhodes. He just played the lead in Hohepa, our NZ IAF show. Phillip and I were in the same year of NSSP and have been great friends ever since. Wow 1996… that is 16 years ago. The Alumni is very prestigious. Quite a collection of people who have gone on to amazing careers. – Glen Pickering, Company Manager, The NBR New Zealand Opera
Help more New Zealanders, whether students or mature actors, teachers or directors, theatre practitioners or audience members, to continue to develop their careers and passion for the Bard
All schools participating in SGCNZ's University of Otago Sheilah Winn Shakespeare Festivals and allied Competitions must be current financial Friends of SGCNZ
Benefits of SGCNZ Friends Membership in NZ
It gives the ability to enter and participate in all SGCNZ's programmes and activities
It is a requirement to apply to SGCNZ to be selected for associated programmes at Shakespeare's Globe
You receive discounts at various SGCNZ activities, events and performances
You will receive assistance with access to The Globe
You will receive quarterly SGCNZ magazines – Accent on Shakespeare-SGCNZ News
This and our website provide opportunities to promote Shakespeare productions, events, auditions and book reviews
It will give you the chance to foster the arts in New Zealand
It gives you the opportunity to assist with education, literacy and life skills enhancement of New Zealanders of all ages
Help SGCNZ to keep providing all these great experiences and opportunities!
Benefits to SGCNZ Friends at The Globe
Personal, advanced booking service through the Friends' Office for theatre performances and Globe Education events
Free admission to Shakespeare's Globe Tour and Exhibition, and discounted entry for guests of Friends – on presentation of SGCNZ Friends Membership card at the Exhibition entrance
Receive a special card which may be used to obtain:

10% discount in The Globe Shop
Discounts provided by Swan at the Globe in the Brasserie and bar
Ability to attend some Globe Friends' events in London on presenting your SGCNZ Friends Membership card at the Friends' Desk at The Globe