SGCNZ ALUMNUS
Amy Usherwood (SGCNZ NSSP 2002, SGCNZ YSC 2003)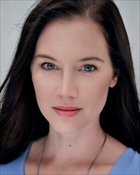 Amy Usherwood (née Adams) attended SGCNZ NSSP in Taupo, 2002, after being selected from the SGCNZ Dunedin Regional Sheilah Winn Festival of Shakespeare in Schools that same year. At the National Festival in Wellington she was presented with the Best Director, Most Promising Actor and Best Production awards. She travelled to London with the SGCNZ Young Shakespeare Company in 2003, performing excerpts from Richard III on the Globe stage.
Since then Amy has studied acting at NIDA (Sydney) gaining a BDA, graduating in 2007. She has toured schools around Australia performing with Shakespeare on Trial (2009.) and played Hermione in The Winter's Tale in Wellington's Summer Shakespeare (2011.). Amy played Nurse Emma Franklin on Shortland Street from 2012-2014. She will appear as Louise Hillary in TVNZ's upcoming Hillary, based on the life of Sir Edmund Hillary. In 2012 she was nominated for Best Supporting Actress at the New Zealand Film and TV Awards for her role in the feature Eternity.
Other theatre credits include Girl in Ache (Circa Theatre), Shannon in Thieves Like Us (Merrigong Theatre), Helen in Sweet Phoebe (Basement Theatre) and Scroop/Michael Williams in Henry V (Pop-Up Globe.)
Amy is a proud member of MEAA.