SGCNZ ALUMNUS
Patrick Carroll (SGCNZ NSSP 2009, SGCNZ YSC 2010)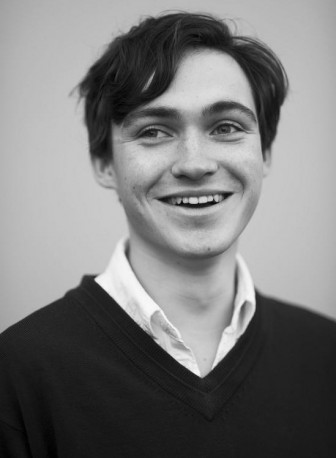 Patrick Carroll grew up in Bath, England and moved to Christchurch when he was 12. He attended St Andrew's College* where he immersed himself in theatre, picking up several notable awards for his outstanding performance as Peter Quince in A Midsummer Night's Dream in SGCNZ's 2009 National University of Otago Sheilah Winn Shakespeare Festival. From that he was chosen to be one of 48 out of 5500 to attend SGCNZ's NSSP. From this he was selected as one of 24 members of SGCNZ Young Shakespeare Company 2010. Patrick joined Long Cloud Youth Theatre in 2010, performing in many productions and serving under two artistic directors, Willem Wasenaar and Aaron Cortesi. While still a student at Toi Whakaari:NZ Drama School, Patrick was lucky enough to spend time with Daniel Pengelly and Elizabeth O'Connor at the Court Theatre in Christchurch, workshopping an original New Zealand script being supported by the playhouse. Aside from that, he took a trip to Wellington to attend A Midsummer Night's Dream. 
This production was helmed by Bright Orange Walls, a company co-founded by Patrick and six other young theatre students in 2012. The work marked a massive collaboration between practitioners from past, present and future Toi Whakaari & Victoria University graduates, the Urban Dream Brokerage and the Wellington Fringe Festival (an operation pulling together around thirty theatremakers, making it the largest company in Fringe 2014). 
For his secondment in his third year at Toi Whakaari, Patrick spent a month in study at L'Ecole Phillipe Gaulier, a school of clown, founded by the eponymous Phillpe Gaulier.
 Returning from Paris his final year of Toi comprised a series of projects, ranging from a film with Louis Sutherland to Touchstone in As You Like It, directed by Lisa Warrington – the graduation production for final year Toi Whakaari actors, designers and technicians.
Bright Orange Walls has presented another Shakespeare, Twelfth Night, with the cast/crew featuring many SGCNZ alums, in Re. Space, a recently opened gallery on Victoria Street.
Out of drama school he headed to Auckland in February 2015 to begin rehearsal on Silo's The Book of Everything directed by Sophie Roberts as part of the Auckland Arts Festival. He was working alongside Olivia Tennant (a SGCNZ alum) as well as Rima Te Waiata, Tim Carlsen and Jennifer Ward-Lealand. The production has since been remounted in Auckland, New Plymouth, Napier, Palmerston North and Hamilton, where Patrick has performed previously with Indian Ink's new work The Elephant Thief. In May 2015 he returned to Wellington to MC at the National SGCNZ University of Otago Sheilah Winn Shakespeare Festival.
In 2016 Patrick toured with Indian Ink, returning to Toi Whakaari to direct the First Year Solos project for his second year and then touring with The Book of Everything.  He spoke with Dawn Sanders ONZM, QSM at the National Library in a debate questioning the importance of Shakespeare being taught in schools.  
Patrick featured in a telefeature called Kiwi in 2017. For theatre work in 2017 and 2018, Patrick performed in various Pop-Up Globe (@popupglobe) shows including Merchant of Venice, and A Midsummer Night's Dream, as well as another Indian Ink show Welcome to the Murder House. In 2019, Patrick performed as Bob the penguin in HEAT at Basement Theatre (@basementspace), and starred in The Luminaries television show based on the book of the same name by author Eleanor Catton.
* Along with Jonathan Price another SGCNZ alumnus, with whom he has collaborated now for near ten years from that first Midsummer Night's to The Elephant Thief.