SGCNZ ALUMNUS
Rawiri Paratene ONZM (SG IAF 2007)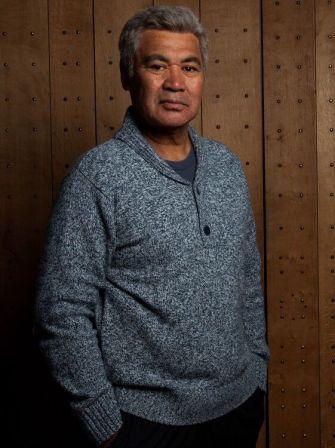 Forty two years in the entertainment industry has seen Rawiri Paratene ONZM win acclaim as an actor, writer, director, producer and tutor in theatre, television, radio and film. He has gained an international profile from his performance as Koro (the Grandfather) in the iconic New Zealand feature Whale Rider (directed by Niki Caro). In 2010 The Insatiable Moon was released, where he played the lead role of Arthur, a delusional street person who believes he is Jesus' little brother. In 2009 he became the first New Zealand Actor to join Shakespeare's Globe Theatre Company in London for a summer season where he played Friar Lawrence in Romeo & Juliet. He returned to Shakespeare's Globe and was part of the Globe to Globe Hamlet tour, which started on Shakespeare's 450th birthday in 2014 and finished in 2016 exactly 400 years after the Bard's death.
Awards include: Robert Burns Fellow at Otago University in 1983; TV & Film Awards for Best Writer (1989 – Erua); Best Actor (1995 – Dead Certs); Best Performance in a Short Film (2008 – The Graffiti & Mr Tupaia); NZ Film Award for Best Actor for The Insatiable Moon & ONZM. In 2005 he co-devised and starred in Children of the Sea which won the coveted Spirit of the Fringe and Fringe First Awards at the Edinburgh Fringe Festival.
Rawiri was an SGCNZ-selected Shakespeare's Globe International Actors' Fellow in 2007. He has been an Assessor for the SGCNZ National Festival  twice and held several workshops. Also, he was a director for the SGCNZ National Shakespeare Schools Production in 2008.