SGCNZ ALUMNUS
Angela Green (SGCNZ NSSP 1996, SGCNZ YSC 1997)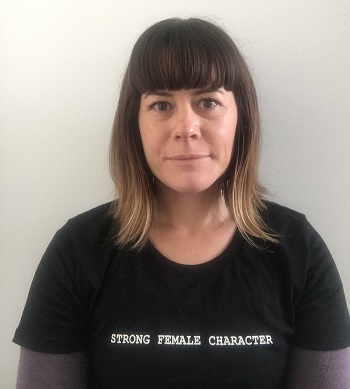 Hailing from Auckland, Angela Green spent some time in the Waikato as a teenager, where she attended Hillcrest High School. She was selected to be an inaugural student at SGNZ's first National Shakespeare School Production in 1996, and from that, to be a member of SGCNZ Young Shakespeare Company 1997.
Angela was awarded the inaugural Museum Hotel Scholarship in her third year at Toi Whakaari:NZ Drama School, which she graduated from  at the end of  2002. Soon after she was in Weta Workshop's Jane and the Dragon. 
Angela has performed on all professional stages in Wellington, including in Adagio at Downstage and Doubt at Circa Theatre.  She produced and acted in Metamorphosis in 2008 and worked closely with iconic Wellington percussion ensemble 'Strike' between 2004-2013.  Angela moved into producing in 2008 and was the Associate Producer of Programming at Downstage until 2012.  During her time there she implemented a number of new programmes, including refining a resident company programme, Soundstage music sessions and was the originating producer for FixTV. She was a Board Member of Young & Hungry Trust in 2012.
After 12 years in Wellington, she made the move to Auckland, to take up a new role as Producer and then Executive Producer at Auckland's Q Theatre. In 2014 Angela began working at the Auckland Arts Festival, and was a Programme Manager there from 2016. Independently, she has produced national and international tours for A Slightly Isolated Dog (Don Juan, Jekyll & Hyde). In 2018 Angela became the Head of Programming at the New Zealand Festival in Wellington.
Angela is committed to working towards a vibrant and sustainable performing arts culture in New Zealand, and promoting creativity as a valued attribute in all areas of society and business. She completed a Masters of Business Administration at University of Auckland Graduate School of Business in 2018 and is a 2012 alumnus of Leadership New Zealand.