SGCNZ ALUMNUS
Kelly Harris (SGCNZ NSSP 2012, SGCNZ YSC 2013)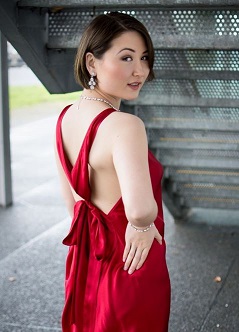 Fresh from university, Kelly Harris completed her first national performance tour in Operatunity's The Golden Era of Musicals.
Operatically trained, Kelly holds a Bachelor of Music and Arts in Classical Voice Performance and European studies from the University of Auckland where she performed the title role in Ravel's L'enfant et les sortilèges. She studied with Dr. Te Oti Rakena, Catrin Johnsson, and Rachel Fuller. During her time at university she was the recipient of the prestigious University of Auckland Scholarship, Evelyn M Harrison Scholarship, and Palazzo Italia Scholarship funding her studies in Venice, Italy.
Her talent has been recognised by both the Auckland Philharmonia Orchestra and Nelson Symphony Orchestra having been invited to be a soloist at their 'Best and Young' and 'Solo Spotlight' concerts respectively. In partnership with the Auckland Art Gallery she could be heard giving patrons "the gift of song" as part of the exhibition Lee Mingwei and His Relations: The Art of Participation 2016-17. She was thrilled to return to the gallery as an APO Young Achiever performing as part of the Corsini Exhbition.
As a freelancer she has entertained the guests of clients such as The Northern Club, Maserati, and Orsini Fine Jewellery. Regularly featured by boutique company Opera Factory, she has performed roles including Papagena (The Magic Flute arr. Diack), Solange (Not in Front of the Waiter) and Belle (A Christmas Carol).
Committed to connecting with a wider audience Kelly has held several prominent positions as a young arts influencer in Auckland's artistic scene, including Auckland Student Ambassador for the New Zealand Symphony Orchestra, Coordinator of the Young Friends of New Zealand Opera (Vanguard), and President of the School of Music Student's Association at the University of Auckland.