SGCNZ ALUMNUS
Felicity Tomkins (SGCNZ NSSP 2013, SGCNZ YSC 2014)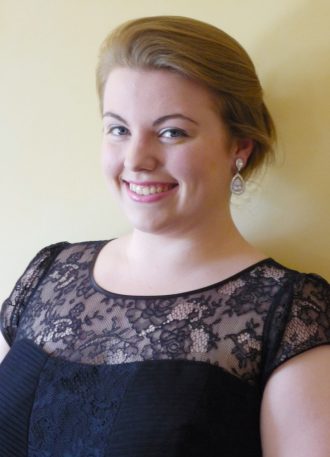 Felicity Tomkins attended Tauranga Girls' College and participated in the  SGCNZ Bay of Plenty Regional UOSWSF.  In 2013 she entered a student-directed excerpt from All's Well That Ends Well, playing the Countess of Roussillon, which won the five-minute student-directed scene.  Attending the SGCNZ NSSP 2013 in Wellington, Felicity was selected as a member of the SGCNZ YSC 2014.  In 2014, she again entered the SGCNZ Regional UOSWSF, performing and directing in two scenes with excerpts from Much Ado About Nothing and The Merchant of Venice, resulting in her receiving the Most Outstanding Performer Award for the Festival.
Felicity is a Sir Edmund Hillary Scholar and an Adastra Foundation Scholarship recipient. She studied at the University of Waikato undertaking a conjoint degree, a Bachelor of Music majoring in classical voice (opera), and a Bachelor of Science majoring in biochemistry.
Theatre still features strongly in her activities, with many of her operatic performances requiring a strong and engaging stage presence.