SGCNZ ALUMNUS
Emma Corbett (SGCNZ NSSP 2014)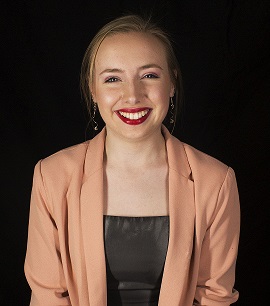 Emma was fortunate enough to join the SGCNZ NSSP 2014 in Dunedin when she was 16 after designing a costume for Lady Macbeth in the SGCNZ/Bernina Shakespeare Costume Design Competition. She met the most wonderful and inspiring people who taught her a great deal and encouraged her to keep taking every opportunity. The experiences she had during that week have stuck with her ever since and are a big reason why she continued working towards a career in fashion.
After finishing at Bayfield High School, Emma began her fashion design degree at Otago Polytechnic where she had the unbelievable opportunity to study for 4 months in Shanghai, China and 6 weeks in India with the Prime Ministers Scholarship Asia. This is where she found her love of business in fashion and made the decision to focus on a more business orientated project in her final year, consisting of a business plan for a non-profit organisation that provides customised clothing for children with disabilities.
She has now graduated with a Bachelor of Design (Fashion) and is excited to have taken a job in Vietnam with GIII where she hope to continue to grow her knowledge and skills. Emma is very excited to be taking this next big step in her career, and is grateful to have had that first chance to be a part of the SGCNZ family.