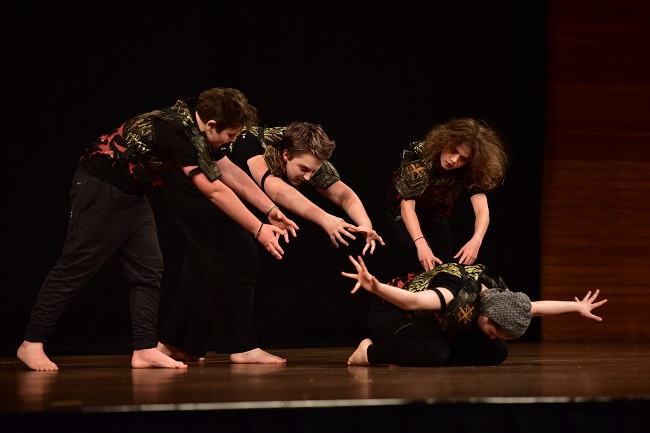 SGCNZ Dance Nimble Soles
SGCNZ Dance Nimble Soles 2021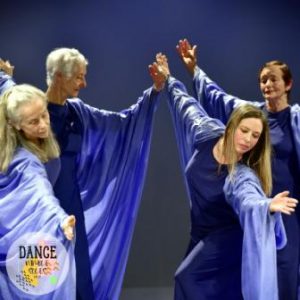 Dance Nimble Soles
All soles danced nimbly on Wednesday night at SGCNZ Dance Nimble Soles! A sensational range of performances inspired by different cultures and styles combined to form a dynamic and delightful evening for all!
Participants ranging from ages 9 to 89 led the audience on a trip around the world via dance, music and drama, all interpreting Shakespeare's works in exciting and enchanting ways.
Thank you so much to everyone who took part!
Photo by Brian Scurfield, Memory of Light Photography.
More photos will be available soon. Availability will be announced on our social media. 
---
Dance on Dance Nimble Soles!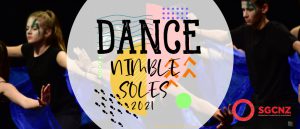 Wednesday 28 July 2021, 7pm, Lower Hutt Little Theatre
Covid has again plagued Shakespeare Globe Centre New Zealand's Dance Nimble Soles. Last year NZ was midst Level 4 Lockdown when it was supposed to be on. This year, Level 2 in Wellington had a similar effect – of cancelling the performance.
However, a new date has been secured in the Lower Hutt Little Theatre of 28 July. Most of the same performers will be there, with additions from the multicultural and Pasifika groups at Upper Hutt College, and some of its Year 13 male students fighting their way through a scene from Romeo & Juliet.
Dancers from Caraka Seni Dance Academy will perform a traditional Indonesian dance reflecting Shakespeare's "…look to the plate", also from Romeo & Juliet, while performers from the Sri Lankan Dance Academy will also contribute an item again this year.
A team of young backstage crew, led by Josh Weigman, from Kuranui College will be brought over by Juanita McLellan from Wairarapa alongside physical theatre actors under the influence of the fairy dust over their performance based on A Midsummer Night's Dream, and dancers in another scene.
Among the SGCNZ Alumni, Katie Boyle and Alexander Sparrow will perform from their delightful Merry Wives of Windsor, while Joel Rudolph and Florence Cater will sing, including her own compositions.
Have a brief taste of scenes from the seldom-performed play, Troilus & Cressida, which is interpreted addressing current issues, directed Maddie Brooks Gillespie, with students from Wellington High School.
"These, and other 'offers', prove just how universal Shakespeare is, both internationally and in arts genre; his works speak, with or without words!", said SGCNZ CEO, Dawn Sanders.
The evening will conclude with Doris Humphrey's beautiful Air for the G-String, performed by Fiona Arbuckle, Anne Rowse, Dawn Sanders, Hannah Scott-McNeill and Jennifer Shennan, with special acknowledgement to Louis Solino. The music will be played live on cellos by students from Hutt Valley High School, taught by Gary Wilby.
"These our actors [dancers and musicians], as I foretold you, were all spirits, and are melted into air, into thin air"  ~ The Tempest, Act IV sci
Venue: Lower Hutt Little Theatre, 2 Queen's Drive, Hutt Central, Lower Hutt
Date: Wednesday 28 July, 2021 7.00pm
Tickets: $20 Adult, $15 Concession and SGCNZ Adult Friends, $10 Student, $8 SGCNZ Student Friends
Bookings: iTicket.co.nz booking fees will apply
---
Fleetingly off the foot – Dance Nimble Soles has been kicked to touch! Owing to Covid Level 2 in Wellington we have sadly had to cancel this event. Watch this space in case we can reschedule!!!
Keep safe and well
For obvious reasons, last year's Dance Nimble Soles was 'scotched'. However, people all around the globe danced th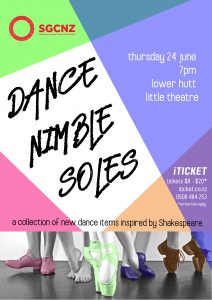 eir way through Lockdown. Whether on streets, at the end of driveways, on verandas and balconies or in living rooms, every style of dance imaginable, (or unimaginable), continued to help provide enjoyment, fitness and expressive outlets.
From Wellington, the Buchanan Family (Jack is an SGCNZ Alum), with their lively dance routine, went viral internationally! Dance classes of every genre graced our screens.
As part of its 30th celebratory year, Shakespeare Globe Centre New Zealand is providing the opportunity of taking this year's Dance Nimble Soles onto the stage of the Lower Hutt Little Theatre on 24 June.
"Over the past 450 years, Shakespeare has been translated into over 140 languages, turned into operas, songs, orchestral work, ballets and contemporary dance," remarked SGCNZ CEO, Dawn Sanders, "Here is another chance to pivot and reimagine the Bard in dance of any which way."
Choreographers can create a Shakespeare inspired 3-10 minute dance item of any type, culture, ethnicity or style, with a brief description reflecting the chosen Shakespeare play and/or characters. Casts may have from 2 up to 40 performers. There are no age limits. In addition to dancers, these may include actors, singers, musicians.
Live musicians are welcome. However, the music must be original, out of copyright, or from the APRA/Creative Commons/Free Music Archives.
Although spoken words may be incorporated, it is first and foremost a dance work… "dancing shoes with nimble soles" Romeo & Juliet
The previous programme included Sri Lankan Dance, NZSL, contemporary and even VR Presentations.
We look forward to seeing the '… imaginary forces work!'
For Criteria & Registration Form click here. Due 15 June 2021.
Entry Fee: $10 per person or SGCNZ Group Friends Membership $110
Enquiries to dawn@sgcnz.org.nz or 027 283 6016
Venue: Lower Hutt Little Theatre, 2 Queen's Drive, Hutt Central, Lower Hutt
Date: Thursday 24 June, 2021 7.00pm (Rehearsals in the afternoon).
Tickets: $20 Adult, $15 Concession and SGCNZ Adult Friends, $10 Student, $8 SGCNZ Student Friends
Bookings: iTicket.co.nz booking fees will apply
---
Ministry of Youth Development Survey
Participant Feedback link: https://www.surveymonkey.com/r/Youth_Development_Initiatives
We are asking all participants in SGCNZ's activities – SGCNZ UOSWSF, SGCNZ NSSP, SGCNZ YSC, SGCNZ Dance Nimble Soles, SGCNZ PPWS and Competitions between 12 and 24 years old to complete this survey from the Ministry of Youth Development.
Funding from this source is contingent on us having at least 1500 people respond  about their experience of being involved (in whatever way – acting, directing, designing, mentoring, crew, front of house, MCs, Assessors…). From the age range, it is clear that it is not just those still at school.
Any queries about this, please contact Dawn Sanders, dawn@sgcnz.org.nz M: 027 283 6016 P: 04 384 1300