The Comedy of Errors – Wellington
Date: 16/11/2016
Category: Theatre Companies – Amateur / Other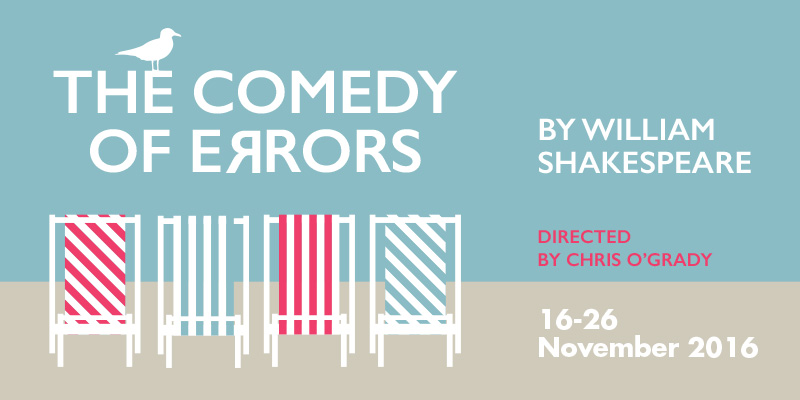 Dates: 16 – 26 November
Venue: Gryphon Theatre, 22 Ghuznee St, Wellington
Tickets: TBA
The Play
The Comedy of Errors is one of William Shakespeare's early plays. It is his shortest and one of his most farcical comedies, with a major part of the humour coming from slapstick and mistaken identity, in addition to puns and word play.This production of The Comedy of Errors will be set in post WW2 1940's in a typical English seaside town. This production will take audience participation seriously with the potential of involving them more than normal…There is the opportunity to have a musician/singer to be playing throughout the production as busker to add to scenes or act as a bridge between scenes. This role could also double with one of the characters.
The Plot
Thirty-three years before the play begins Egeon, a merchant of Syracuse, became the father of twin boys. He named them both Antipholus and bought another pair of twins, both named Dromio, to be their servants. Egeon and his wife were travelling home with their sons and servants when they were shipwrecked in a violent storm. Egeon managed to save only one Antipholus and one Dromio and has never seen the rest of his family since.
Antipholus and Dromio arrive in Ephesus in search of their long-lost twin brothers, unaware that their father Egeon has also arrived there on the same quest. As a citizen of Syracuse, a city at war with Ephesus, Egeon has landed illegally in Ephesus and is arrested and condemned to death unless a ransom is paid by sunset. Unknown to all of them, the lost Antipholus and Dromio have been living in Ephesus for many years.
Suddenly the strangers find themselves greeted like old friends, Antipholus finds that he has acquired a wife, and everyone in Ephesus seems to be behaving very strangely…