Cymbeline – Free Preview at the Cross – Wellington
Date: 26/02/2017
Category: Theatre Companies – Amateur / Other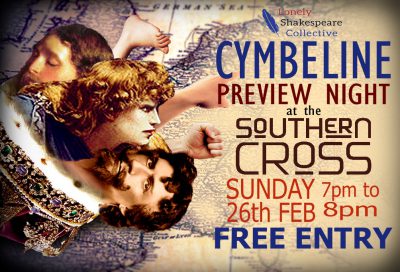 Date & Time: 26 February 2017, 7pm-8pm
Venue: Southern Cross Garden Bar Restaurant, 39 Abel Smith Street, Wellington
Free event!
Shakespeare's rarely performed late romance about deception and forgiveness comes to BATS. But first the Lonely Shakesepare Collective will give you a little foretaste at the Southern Cross Garden Bar and Restaurant on Sunday 26 February 2017!
Princess Imogen is having a tough week. Her father, King Cymbeline, has separated her from her new husband, Posthumus, her wicked stepmother is trying to kill her, and the queen's son just can't take a hint. What's a girl to do?
Meanwhile the banished, Posthumus, arrives in Rome, where he meets the cunning Italian gentleman, Iachimo, who challenges him to a simple wager. What could possibly go wrong?
And in the sleepy hills of Milford-Haven, two children are about to find out their secret royal lineage.
This quirky play features live music and a striking battle sequence choreographed by LOTR Motion Capture Director, Carrie Thiel, all set in an alternative Victorian era.
Come grab a drink and enjoy a night of Shakespearean delight!
And our creative team:
Creative Team:
Performed by James Bayliss, Ivana Palezevic, Hamish Boyle, Laura Loach, Michael Pohl, Annica Lewis, Amalia Calder and Anthony Hogan.
Director :Ivana Palezevic
Stage Manager: Crystal Pulkowski
Costume Designer: Frankie Allard
Fight Choreographer: Carrie Thiel
Set/Technical Director: Crystal Pulkowski
Composer: Laura Loach
Poster Design/Publicity: Hamish Boyle"