Dark Night Winter Play Reading Series – Auckland
Date: 13/06/2016
Category: Theatre Companies – Professional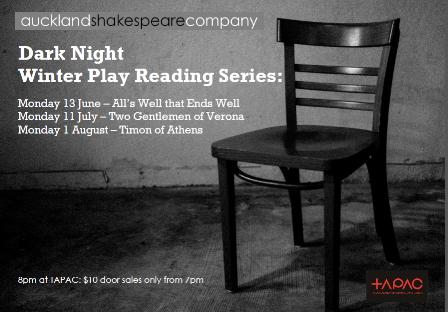 Dates & Times:
Monday 13 June, 8pm – All's Well that Ends Well
Monday 11 July, 8pm – Two Gentlemen of Verona
Monday 1 August, 8pm – Timon of Athens
Venue:
Tapac, 100 Motions Road, Western Springs, Auckland
Tickets:
$10, door sales only (from 7pm)
Dark Night Winter Play Reading Series
A cast of actors meet for the first time…in front of an audience. All they have is their part, a chair and their skill.
See what happens when some of Auckland's finest talent is thrown into the ring to bring three of Shakespeare's lesser known works to life. Using the traditional form of 'cue-script', ASC will bring you a fresh, spontaneous and unique insight into these fascinating plays.
Featuring: Laurel Devenie (SGCNZ YSC 2001), Daniel Watterson, Sylvia Rands (SG IAF 2009), Carmel McGlone (SG IAF 2011), Stuart Devenie, Calum Gittins, Alexander Holloway, Sheena Irving, Anthea Hill (SGCNZ YSC 2008), Caleb Wells, Margaret-Mary Hollins, Fasitua Amosa, Stephen Butterworth and many more.