Hamlet – The Lord Lackbeards
Date: 11/04/2016
Category: Theatre Companies – Professional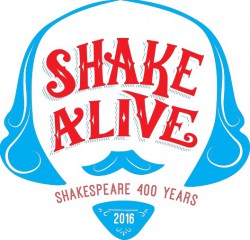 Performed by: The Lord Lackbeards
Dates & Times: 11th April, 1pm and 7pm
Venue: Pop-up Globe,  Auckland
Buy Tickets: http://www.eventfinda.co.nz/2016/hamlet/auckland
"Speak the speech, I pray you, as I pronounced it to you, trippingly on the tongue"
400 years after Shakespeare's death, The Lord Lackbeards Touring Company mix conventions from our time and his to create an intoxicating interpretation of his most immortal work.
For one day only, The Lord Lackbeards bring their Hamlet to the Pop-Up Globe Auckland. In a reversal, or photo negative, of productions that use the historically accurate convention of only male actors, they present a Hamlet with an all female cast. Continuing the conversation between past and present, this production combines an Elizabethan approach to staging and text with modern physical theatre techniques and costuming.
Struggling to come to terms with his father's death and mother's remarriage to his uncle, Hamlet encounters his father's ghost. Shaken and confused, unsure of what to believe, Hamlet turns to the audience to find the meaning of existence. Embracing the complexities of human nature from tragic to comic, this production isn't afraid to laugh at the absurdities of the human condition.
In this, the 21st Century, The Lord Lackbeards look past and through time and gender to see how Shakespeare's Hamlet calls out to our common humanity.
Pop-up Globe Auckland is a full-scale working temporary replica of the second Globe Theatre originally built by Shakespeare and his company in 1614, the result of groundbreaking international academic research. With a steel frame 'skinned' in plywood the Pop-up Globe fuses cutting-edge scaffold technology with 400-year-old designs and superb contemporary performances to create an immersive 360 degree experience unlike any other.
Website: The Lord Lackbeards Touring Company