Lucrece – Auckland
Date: 26/10/2016
Category: Theatre Companies – Professional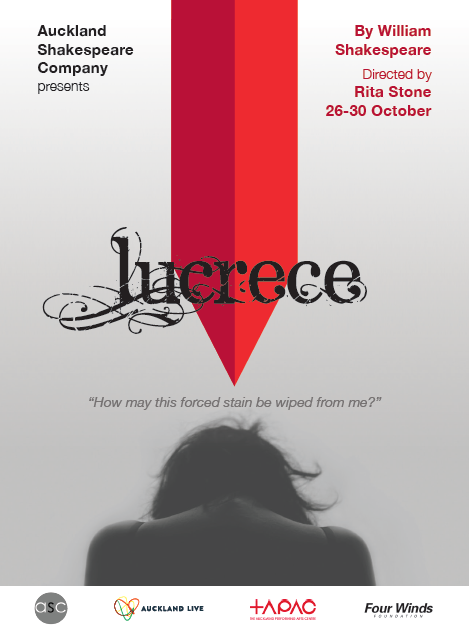 Dates: Wednesday 26 October – Sunday 30 October 2016
Venue: TAPAC (The Auckland Performing Arts Centre, 100 Motions Road, Western Springs)
Tickets: www.tapac.org.nz or 09 845 0295
Lucrece
Presented by: Auckland Shakespeare Company
Directed by: Rita Stone
Starring: Daniel Watterson, Anthea Hill, Calum Gittins and Sheena Irving
Original Music Composed by: Paul McLaney
The hotly anticipated debut show from the Auckland Shakespeare Company has arrived. After four years of grooming young actors and receiving critical acclaim for their annual youth shows, ASC has chosen 2016, the 400th anniversary of the death of William Shakespeare, to launch their first professional production: Lucrece.
In a bold departure from the usual Shakespearean fare of large casts and well known texts, ASC brings you LUCRECE: a reinvention of Shakespeare's darkest narrative poem, The Rape of Lucrece. Working from the original text, a chorus of four actors take you on the heart-stopping journey of Lucrece, the chaste wife of a noble lord, who is sexually violated in her home by Tarquin, a Roman Prince. As a result she commits suicide and her body is paraded through the streets of Rome.
Under the direction of Auckland Shakespeare Company's Artistic Director, Rita Stone, actors Anthea Hill (SGCNZ YSC 2008) (King Lear, A Midsummer Night's Dream), Daniel Watterson (Twelfth Night, Romeo & Juliet),  Sheena Irving (The Tempest, A Midsummer Night's Dream) and Calum Gittins (Hamlet, King Lear) and musician Paul McLaney ("…on the threshold of something big" – Mike Alexander, Stuff) take you on an intense and confronting nightmare into this dark, 400-year old poem, more relevant now than ever.
Warning: contains themes of rape and suicide
"I don't often say this but I simply can't wait to see what this talented, capable, and dedicated bunch do next."
 – Lexie Matheson, Theatreview