Manawatu Summer Shakespeare – The Merry Wives of Windsor
Date: 11/03/2016
Category: Theatre Companies – Amateur / Other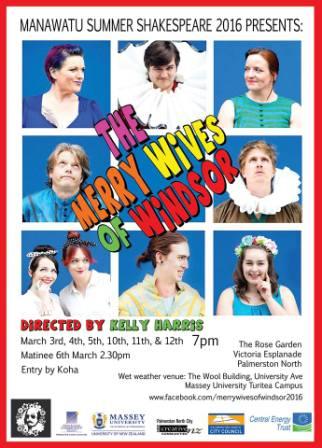 Directed by: Kelly Harris (SGCNZ TGG 2011)
Dates & Times: 3rd, 4th, 5th, 10th, 11th & 12th March 7pm, 6th March matinee at 2.30 pm
Venue: The Victoria Esplanade, The Rose Gardens, Palmerston North
Wet weather venue: The Wool Building, University Ave, Turitea Campus, Massey University
Koha entry
Manawatu Summer Shakespeare, supported by Massey University, has been an annual event within the Palmerston North community since 2003. Each year an artist in residence is chosen to direct a production of their choice in order to collaborate with students, local artists and the community. Following on from last year's dark tragedy King Lear, Summer Shakespeare brings fun back to the Esplanade with the light-hearted comedy that is The Merry Wives of Windsor.
The Merry Wives of Windsor by Sir William Shakespeare was first published in 1602 and was the 18th show he ever wrote. Merry Wives is a revenge filled, vivacious, energy packed comedy filled with themes of love and marriage, jealousy, social class and wealth. Explored with irony, sexual innuendo, and sarcasm, The Merry Wives of Windsor promises an evening of laughter and revelry for both cast and audience alike. Down on his luck, Falstaff seeks to woo the affluent Mistress Page and Mistress Ford but can he compete against a jealous husband? Amongst marriage proposals, dangerous duels and some meddling Mistresses, can Falstaff outwit the women of Windsor or will he end up ransacked in the river?
Come along and enjoy an evening of theatre in the park and eat, drink and be merry with us!
With Maree Gibson, Mike Pyefinch, Maggie Webster, Juliette Green, Sean Metcalf, Hannah Pratt, Matt Waldin, Pauline Pyefinch, Georgina Wheller, Tobias Lockhart, Danelle Walker, Brianna Shaw, Regulus VanHelsing, Sasha Lipinsky, Mark Kilsby, Catherine Tubby, Philip Mills, Aaron McLean, Sarah-Paige Sturm, Ethan Burmeister, Alexandra Bellad-Ellis, Shivarn Stewart, Jess McLean (SGCNZ NSSP 2010)