Celebrating 30 Years! | Feasts of Friends- year round
Date: 31/12/2021
Category: Theatre Companies – Amateur / Other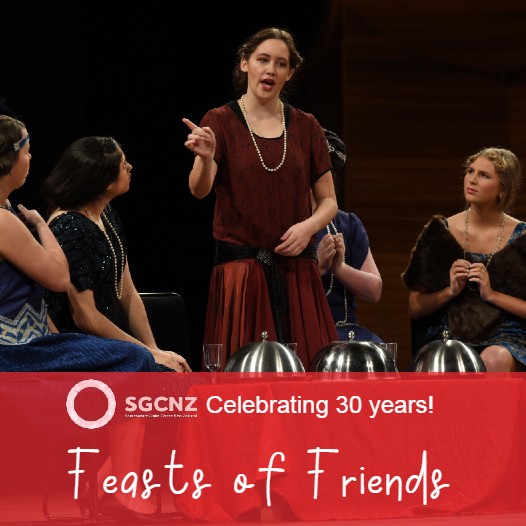 Get together with a group of Alumni to reminisce, recite and enjoy a feast at your favourite local haunt and raise a glass to SGCNZ!
SGCNZ is encouraging Alumni to network and build on the bonds forged during our Festivals and flow-on activities by celebrating our 30th Anniversary together, and at the same time, use the opportunity to add to our coffers to ensure the future of SGCNZ!
If everyone in the group contributes say $5 or $10 each, what a difference it would make. If they wish to donate more, however, it will of course be hugely welcomed! Every amount raised will help SGCNZ to create opportunities for future students like you. In the Bard's wise words, each donation is "a pearl whose price hath launched above a thousand ships".
So gather your friends and set the menu- we could suggest, "eight wild boars roasted whole at breakfast"! We look forward to seeing images of and hearing about your Feast of Friends.
For help, feedback, further menu suggestions and how to forward any financial contributions, please contact dawn@sgcnz.org.nz or 04 384 1300