SGCNZ Primarily Playing With Shakespeare 2017 – As You Like It
Date: 07/11/2017
Category: Theatre Companies – Amateur / Other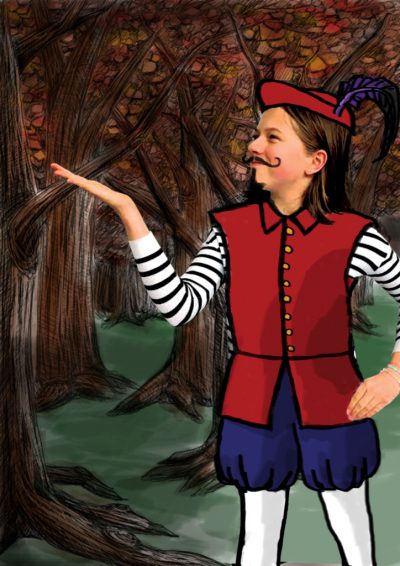 When: Tuesday 7 November 2017, 12.30pm
Where: Samuel Marsden Collegiate School, Marsden Avenue, Karori, Wellington
Tickets: $12 Adults, $11 Concession & SGCNZ Friends, $2.50 Children (Booking fees apply)
SGCNZ Primarily Playing with Shakespeare 2017 – As You Like It
Primary-age students from Samuel Marsden Collegiate School, Karori West Normal School, Clifton Terrace School and WHEN (Wellington Home Educators Network) will be putting their fresh slant on SGCNZ's Primarily Playing with Shakespeare 2017 (PPWS) production of "As You Like It".
Each group rehearses their scene/s in their own school or space, with Co-Director/Mentor Sarah Burton making a few visits as and, if required, mentoring the teacher. Key characters are identified in the scenes, which are performed sequentially, by a costume garment of the same colour across all the groups.
Ideally suited for the very young, "As You Like It" moves from the family feud over the rulership of the court of the recently deceased Sir Rowland de Bois into the Forest of Arden, where Rosalind, daughter of the banished Duke Senior, and Celia, daughter of reigning Duke Frederick, flee with Touchstone, the court jester.
To ensure their safety, Rosalind dresses as a young man and takes the name Ganymede, while Celia dresses as a common shepherdess and calls herself Aliena. Orlando, younger son of Sir Rowland, returns home to the court from the wrestling match, only to have his faithful servants, Alice and Adam, warn him about his older brother, Oliver's plot against his life. Orlando also decides to leave for the safety of the Forest of Arden. Confused relationships ensue!
Ideal for children, parents, grandparents and general public keen to foster creativity and presentation skills from an early age, this rendition of "As You Like It" will include other elements of the arts, with a smattering of music and dance, as well as committed acting exhibited throughout.
Door sales available (cash only).
For more information contact Dawn Sanders!
Email: sgcnz.dawn@gmail.com
Phone: 04 384 1300