Shakespeare at the Plaza: Much Ado About Nothing
Date: 02/04/2016
Category: Theatre Companies – Professional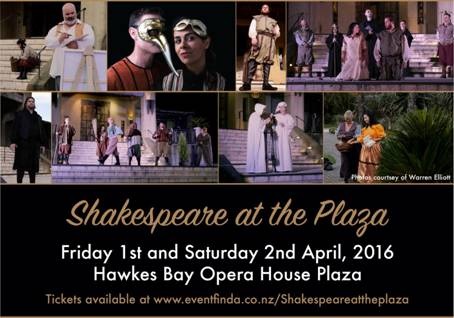 Dates & Times: 1st &2nd April, 7.30pm
Venue: Hawkes Bay Opera House Plaza
Tickets: 
Adult: $39.00
Concession (Gold Card/Student with ID): $35.00
Child: $10.00
Student (One teacher comp for every 15 students).: $18.00
"Masquerade" Table of 10: $650.00
Buy tickets through Eventfinder!
Hawkes Bay is set to commemorate 400 years since the death of William Shakespeare in a truly unique way with the Hawkes Bay Shakespeare Festival. Following on from the annual Shakespeare in the Park day at Church Road winery on Saturday March 19, we are pleased to present "Shakespeare at the Plaza" 2016 with a performance at the Hawkes Bay Opera House Plaza on Saturday, April 2, 2016.
Director Peter Cottrell from production and entertainment company, The Drama Workshop, will bring to the stage "Much Ado about Nothing" by William Shakespeare with a stellar cast supported by local musical ensemble 'Confetti'.
Written by William Shakespeare, Much Ado About Nothing is a comedy. Set during Medieval times, it is also, essentially, a love story. Young Count Claudio has returned from war, and meets the lovely Hero, daughter of the man Claudio is staying with. He asks her to marry him, and she consents. But the night before the wedding, Claudio believes he sees Hero cheating on him, and he humiliates her at the altar. Her father, after much thought, tells Claudio that she has died from grief, a few days later. Meanwhile, Count Benedick has also returned from the war, and openly sparrs with Beatrice, the cousin of Hero. They are suited to one another, but neither will admit it, and both swear to never marry. Hero's father, among others, plots to get the two together. To achieve this, he has the close friends of the two talk to one another openly about how one desperately loves the other, and thus fooling them into admitting their feelings to themselves.
In the end of the story, Claudio is told he must marry a cousin of Hero's. When he reaches the altar, he marries the girl without seeing her face. When he lifts her veil, he finds that his beloved Hero is the one that he marries. A repeat of what really happened is told, when Claudio finds out that he was tricked. After this time, Beatrice and Benedick talk to one another, egged on by their friends, and confess their love to one another, and all live well, at least happy for the time being.
Patrons are invited to either take a seat in the Plaza or purchase a 'Masquerade Table' for ten where the price will include gourmet canapés for the table.
Drinks are available to purchase from the cash bar open from 7pm. Please note, child tickets cover children aged 5 to 13yrs.