Shakespearean Conspiracies
Date: 02/11/2017
Category: Theatre Companies – Amateur / Other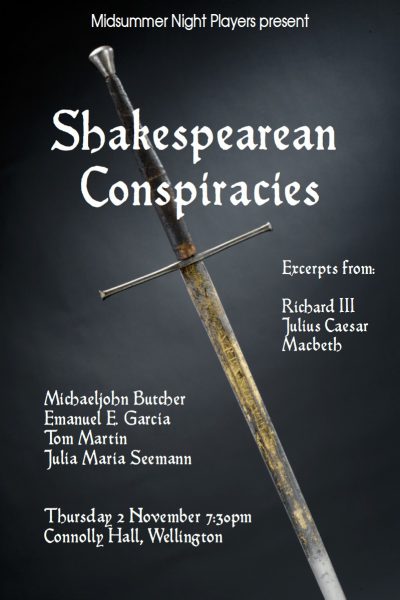 When: Thursday 2 November, 7.30pm
Where: Connolly Hall, Guildford Terrace (off Hill Street), Thorndon, Wellington
Tickets: $5 General public, $3 Members of the Wellington Shakespeare Society and/or Shakespeare Globe Centre NZ
Cash door sales only!
Shakespearean Conspiracies
Shakespeare's compass of the human condition is unrivalled, and includes the darkest as well as the brightest parts of the soul.
In this programme of Shakespearean conspiracies, the Midsummer Night Players will present excerpts from three of the Bard's dramas – Richard III, Julius Caesar and Macbeth – illustrating the different facets of the evolution of evil and bloodshed. Be prepared for an hour of high drama, high poetry and the anatomy of conspiratorial murder!
There will also be a forum after the performance, chaired by Shakespeare Globe Centre NZ Alumni Maddie Brooks-Gillespie and Zoe Hancox-Monk.
Shakespearean Conspiracies will be hosted by the Wellington Shakespeare Society, which, now being 85 years old, is an institution in Wellington. The Wellington Shakespeare Society was the instigator of the Globe Hangings Project in 1983 and meets on the first Thursday of each month in Connolly Hall, Thorndon. As Shakespeare Globe Centre NZ arose out of the Globe Hangings Project, they continue to work closely together.
The performance will be held at Connolly Hall and is open to the public. Tickets are only $3 for members of the Wellington Shakespeare Society and Shakespeare Globe Centre NZ and $5 for general public!
The Midsummer Night Players:
– Michaeljohn Butcher
– Emanuel E. Garcia (also Director)
– Tom Martin
– Julia Maria Seemann
Cash door sales only.
For further information contact Dawn Sanders Mobile: 027 283 6016 or Email: Action-Sanders@xtra.co.nz