Shakespeare's Will – Auckland
Date: 02/04/2016
Category: Theatre Companies – Professional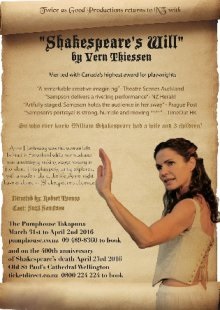 Dates: 31 March – 2 April, 8:00 pm
Venue: The PumpHouse, Auckland
Ticket pricing (all prices include GST):
Adult $25
Friend of the PumpHouse $22.50
Group +10 $19
Student $20
Shakespeare's Will falls somewhere between imagined history and unauthorised autobiography. The modern prose seamlessly travels in and out of Shakespeare's time and our own, offering historical insight with one line and pure conjecture with the next.
Suzy Sampson heralds from Wellington but trained at RADA and the London Academy of Performing Arts, TVI Studios in Los Angeles and the Stella Adler Academy in New York – her most recent roles include Simonides in AUT's Outdoor Shakespeare production of Pericles, and Titania in A Midsummer Night's Dream and Jacques in As You Like It for Twice as Good Productions outdoor Shakespeare season in the Bay of Plenty.
In Shakespeare's Will Suzy takes on the role of Anne Hathaway who at the age of 26 fell pregnant to and married 18 year old William Shakespeare. The play opens with her returning from her husband's funeral and from there she begins to reflect on their life together and apart.