Titus Andronicus – Hamilton
Date: 26/08/2016
Category: Theatre Companies – Professional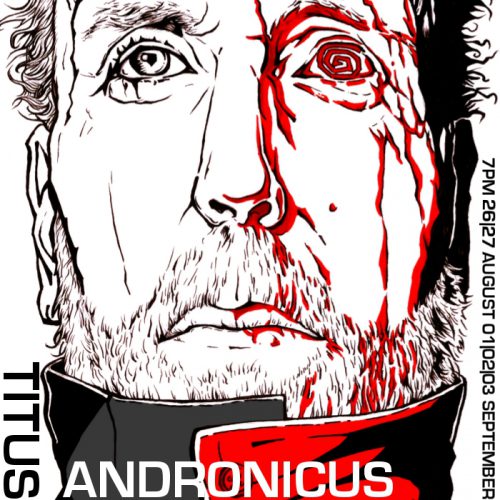 Dates & Time: 26 & 27 August, 1,2 & 3 September; 7pm
Venue: Meteor Theatre, 1 Victoria Street, Hamilton
Tickets: $15 Adults, $12 Students
Click here to buy tickets! 

Slip of the Tongue presents William Shakespeare's big, bold, and bloody play: Titus Andronicus.  Written between 1588 and 1593, the play is thought to be Shakespeare's first tragedy and was extremely popular in its day. The play tells the fictional story of Titus, a Roman general who has returned from 10 years at war with the Queen of the Goths as a prisoner. Titus' unflinching dedication to Roman tradition and his inability to change ultimately leads to a cycle of revenge so bloody, that only a few are left standing. Lead by Alec Forbes in the role of Titus, this production aims to be as disarmingly beautiful as it is unsettling.
Directed by Pip Smith Titus Andronicus is a visceral and intense play. Using live music, a stark set and copious amounts of fake blood, Titus Andronicus promises to be a visual feast and is not to be missed.
Cast: Alec Forbes (Titus Andronicus), Maria Jane Eaton (Tamora), Mark Houlahan (Saturnius), Carl Watkins (Lucius), Adrian Holroyd (Marcus Andronicus), Tim Kapoor (Bassianus), Genevieve Sheffield (Lavinia), Benny Marama (Aaron), Ross MacLeod (Demetrius), Philip Garrity (SGCNZ YSC 2012) (Chiron), Emily Broughton (Young Lucia), and others.