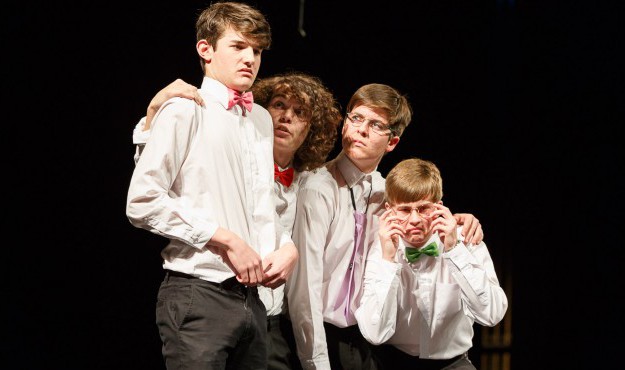 Museum Art Hotel Scholarship Alumni

Angela Green – 2002
Anglea graduated from Toi Whakaari in 2002 and has performed in Weta's Jane and the Dragon and on all professional stages in Wellington, including Adagio at Downstage.  She produced and acted in Metamorphosis in 2008 and has worked closely with iconic Wellington percussion ensemble Strike since 2004.  A founding member of the Wellington Producer's Room, Angela moved into producing in 2008 and since then she has been the Manager of Programming at Downstage, and is currently Producer at Auckland's Q Theatre.  She is also a recent graduate of Leadership New Zealand programme.
Matu Ngaropo – 2003
"Since graduating from Toi Whakaari there have been many memorable experiences in my (somewhat limited) career.  I must say that during my final year of drama school being asked to play Othello at Centrepoint was certainly a huge surprise and marked a clear change from student to professional for me.  But being still a student meant that I wasn't able to be paid and I definitely would have struggled had it not been for Chris' support through the Museum Art Hotel Scholarship.
In recent years I have been lucky enough to work with Mike Mizrahi and Marie Adams' company 'Inside Out Productions' and their Rugby World Cup Inflatable Ball Project in association with Tourism NZ.  Performing all over the world to many Dignitaries including Her Majesty The Queen, Helen Clarke, John Key and the IRB President and his international committee.
I am currently working for Kura Productions presenting a children's show all in Te Reo Maori for Maori TV.  I love the energy of this work, what it stands for and the fact that we speak Maori not only in front of the camera but in our general workspace as well.  It is the primary language we work in and for me it's definitely a highlight.
Playing Hermia in an all-male cast of A Midsummer Night's Dream was hugely challenging and a once in a life-time opportunity.  I had a ball. I have been a part of 11 full-length Shakespeare productions including Othello, Romeo and Juliet, Cymbeline, A Midsummer Night's Dream, Troilus and Cressida and Love's Labour's Lost  for a 27year old man, I believe that this is a huge achievement."
Most recently, Matu has been performing at the Frankfurt Book Fair, notably reading Hone Tuwhare's Rain.
Kate Prior – 2004
Kate graduated from Toi Whakaari: New Zealand Drama School in 2004. Since then she has worked as an actor in Auckland, Wellington, Christchurch and Dunedin, including Doubt for Auckland Theatre Company, A Clockwork Orange for the Auckland Festival 2005 and the cabaret Jacques Brel Is Alive and Well and Living in Paris for the Silo Theatre. In Wellington, she has performed in Revenge of the Amazons, Handyman, Baghdad Baby! and Gas at BATS, Armslength at Circa Two and The Winslow Boy at Circa One for which she was nominated for Most Promising Female Newcomer in the 2007 Chapman Tripp Theatre Awards.
In 2009 Kate performed the one-woman show My Name is Rachel Corrie at the Court Theatre, Christchurch. She subsequently produced the tour of the work to Wellington and Auckland in 2010. Kate performed in a nationwide tour of Lynda Chanwai-Earle's HEAT in 2010, and in 2011 performed in Alan Ball's comedy Five Women Wearing the Same Dress, a joint production between The Fortune and The Court Theatre.
More recently, Kate has been developing her writing, and her short film Shooting an Elephant has been funded by the NZ Film Commission as part of their Fresh Shorts competition. For MSN's Movie Fix website, she reviewed films in the NZ International Film Festival.
Kate is currently performing in Dean Parker's Tigers of Wrath at Circa Theatre, and played Lucy, the bad quiz master, in the second series of South Pacific Pictures' Nothing Trivial.
Dan Caddy – 2005
After graduating from Toi Whakaari in 2005 with the help of the Museum Art Hotel Scholarship Dan elected to extend his training in the performing arts by taking a further three years to complete a New Zealand School of Dance Diploma in Dance Performance (Contemporary).
"It has been very rewarding for me to study at both of these great schools and having only graduated for the second time at the end of 2008, I now look forward to forging myself a career in the performing arts.
Things are ticking away here in Auckland. I'm generally auditioning at the moments and have picked up two TVCs so far this year. One on air in Australia and one here in NZ.  I'm working nights at a great Bistro in Northcote Point called 'The Engine Room'.  I am slowly but steadily meeting people in the industry and building my own little network.  I was very happy to offer a bit of support to Matu in his sporting endeavours recently, and also to catch fellow scholarship alumni Brooke as Juliet at the Maidment."
Brooke Williams – 2006
"Since leaving drama school I have been lucky to have had many exciting experiences in the industry. I have especially enjoyed working for Auckland Theatre Company. In my first year out I performed as Mary Warren in their production of The Crucible. It was so exhilarating to be performing such a rich and important piece of work with a plethora of incredible New Zealand actors and a dream creative team. The next year I performed in The Female of the Species for the same company which was the most fantastic experience and a great introduction to farce.
Another great experience was playing Trinculo/Ariel in Peripeteia's production of The Tempest at a beautiful sea scout hall last summer. Each actor played two characters and the audience flipped a coin to decide which actor would play which character each night. Hair raising and thrilling for us and a real treat for the audience. I have also learned a lot about screen acting mainly from my work on Go Girls and Legend of the Seeker."
Dan Musgrove – 2007
Since graduating from Toi Whakaari: NZ Drama School in 2007, Dan has co-written
multiple theatre and comedy works, with writing partner Natalie Medlock. Their debut two-hander, Blinkers successfully toured Auckland, Wellington and Melbourne, and enjoyed a critically acclaimed season at the Basement in Auckland with its companion piece Spurs. Their smash hit Christmas show Christ Almighty! and TOYS enjoyed sell-out shows and critical acclaim at the Basement and Bats in 2009, 2010 and 2011, with the former nominated for Best Play at the 2010 NZ Writers Guild Awards. Their latest work No Holds Bard, co-created and performed by Michael Hurst, premiered at the 2012 Wellington International Festival of the Arts. The Dominion Post described it as a 'comic tour de force.'
Dan's stage acting credits include Romeo and Juliet for ATC, and Holding the Man, Life is a Dream, and BACKSTORY for the SILO Theatre Company. His screen credits include playing drug lord Marty Johnstone in Underbelly NZ, Go Girls, Safehouse, Legend of the Seeker and Piece of my Heart.
Dan is a past winner of the Playmarket NZ Young Playwrights Competition.
Cian White – 2008
"Exciting news I've been holding off from sharing but as I am now confirmed I shall share! …. I'm off to Taipei,  then I'm travelling to Rome and Athens to perform alongside MAU theatre company! BOOM!! Excited, Nervous, privileged but most of all amped to be able to travel the world doing what makes my heart smile !!"
Since receiving the Museum Art Hotel Scholarship, Cian has travelled to study in LA and Brisbane and aspires to continue her journey in up-skilling in the area of Performance art. Cian attributes her ability to go on such journeys to the support that Chris Parkin, Dawn Sanders and the scholarship has provided for her: "It allowed me to concentrate solely on my work and that was truly a gift. The opportunities that I received in 2008 from receiving this scholarship are still present in 2009 and have played a big role in my plans for the future. Essentially this is not only a year's support, but it provides the ability for students to create opportunities that will set them up for a lifetime career and for that I am truly grateful to Chris Parkin, Dawn Sanders and the Museum Art Hotel scholarship".
Sophie Lindsay – 2009
"At the beginning of 2009 I spent four weeks in Port-Vila, Vanuatu writing and directing a play. Having grown up there, I enjoyed making something about and for my community. It has sparked an interest in me to create my own work in the future.
In the specific context of New Zealand, this young and isolated country, we can experiment and search to find the stories that are meaningful to us. This is nothing new to the local theatre community but it is still something which is very real and very exciting for people like myself.
A highlight for me since graduating from Toi Whakaari: New Zealand Drama School was spending time in Europe last year and learning more about theatre and film. "I've been drawn to European theatre and French theatre in particular, since growing up in Port-Vila where I performed in French productions."
In 2010 I assisted Juliet O'Brien on her production, The Letter Writer at the Wellington International Arts Festival. Two French actors, Anne Barbot and Benoit Blanc came with Juliet from France, to work alongside Peter Hambleton, Tim Gordon and Helen Moulder. What I was most impressed with in The Letter Writer was the actors' precision, dedication and control. And this was the same with the actors I observed last year in France at the Festival d'Avignon and in Berlin. I found it thrilling to see this level of skill on stage. I am currently working in advertising and it's fair to say that precision, dedication and control are equally as important in achieving great results.
Chelsea Bognuda – 2010
Almost two years out of Toi Whakaari, Chelsea has completed a full national tour with Capital E and performed a season in Circa Two and has this year been gigging around Auckland City as singer songwriter and cover artist "Chelsea Bridge". It has been a side street off the acting path but Chelsea admits it was a much needed change from 4 years of intensive acting work.
She is returning to Wellington this summer to perform in Circa's Pantomime and then work on a piece with the NZSO early next year. Chelsea's real passion is to sing and write music but knows she will forever weave between the two types of performing. Especially right now as she is new to the singer/songwriter scene and says it's much harder to make money as a singer than as an actress. Her plan for the future is to sing in overseas establishments in a style not far from Jessica Rabbit in Who Framed Rodger Rabbit. She enjoys the 1920s feel of this style of performing. She has many great connections in the hotel business in Asia and the Middle East so plans to take up one of their contracts mid next year.
Leon Wadham – 2011
Leon Wadham grew up in Karori, attending Karori Normal School and then Onslow College with whom he participated in SGCNZ's Festivals in 2005 and 2006. He has also already performed frequently at BATS, co-written plays and demonstrated his versatility in Toi Whakaari's Cabaret evening held at the Museum Art Hotel.
Leon has worked as an actor in productions for Silo Theatre (Tribes) Circa Theatre (The Cape) and BATS (Tinderbox), as well as in screen projects for Lee Tamahori (Cardinal), Jonathan King (Under The Mountain) and Mark Albison and Louis Sutherland (Shopping).  In addition to his performance work, Leon co-wrote Downstage's 2012 season-opener Live At Six with Dean Hewison, wrote for TV3's upcoming sitcom Sunny Skies and co-directed Tom Keeper Passes for Long Cloud Youth Theatre.  The coming year will see him work with Colin McColl for Auckland Theatre Company and in The Pitchfork Disney at Q Theatre.
Alex Tarrant – 2012
"One more corner to turn before the home straight! Solos have just passed and all my defences have gone down so the flu is starting to seep in. My solo is inspired by mine and my friends' school life growing up below the poverty line. Food, or lack of food had a huge impact on our school days. So it's a story dedicated to my bros back at Hamilton's Fraser High school. Chur. I must say this year at drama school, I've never had to eat two minute noodles unless I've wanted to, so thanks Chris and Dawn. Even though the finish line is close it doesn't mean I can walk the rest of the way. Next up, industry day, also known as "Next Generation Day." This is a chance to meet people tied into the arts industry. I see this as an opportunity to potentially collaborate and create work for New Zealand e.g. I'd love to jam with someone to tour my solo to South Auckland. Anybody? Anyway it's been a great term."
Keagan Fransch – 2013
A reminder: I am currently in my third year at drama school, and as part of the course internship period I have travelled to Cincinnati, Ohio to work with director Timothy Douglas on the Horton Foote play The Trip to Bountiful. My official role is Assistant Director and so I have the privilege of not only being part of the creation process from start to performance, but I also have the rare opportunity to sit down with the director after every session and discuss the rehearsal, the process, the progress, images, discoveries, setbacks, all the things that as an actor I wish I were privy to so that I could be more aware of my part in the whole.
In less than a month I will be graduating from Toi Whakaari: NZ Drama School. It is incredible to think how quickly three years have passed, and it is at once terrifying and exhilarating to think about now beginning a career. I have been working on our exciting graduation show, Mike Bartlett's Earthquakes in London, which has been a pleasure to be part of. As well as performing, I have begun preparing for the 2013 Go Solo season and trying my hand at writing and directing short films.
Now as I prepare to graduate, my focus has turned to creating connections with industry professionals, and in doing so I find myself reflecting on the invaluable and lasting connections I made with my fellow SGCNZ NSSP 2004 and YSC 2005 participants all those years ago. I am also immensely grateful to Chris Parkin without whose generosity this Scholarship would not exist.