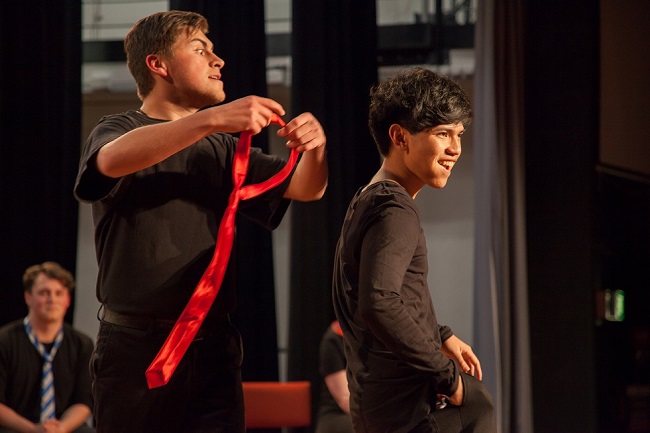 SGCNZ National Shakespeare Schools Production (NSSP)
SGCNZ NSSP 2019
The SGCNZ National Shakespeare Schools Production 2019 was held at St Patrick's College Silverstream, Upper Hutt from 29 September-7 October, with public performances on Saturday 5 October at Pipitea Marae, Thorndon, and Sunday 6 October at the Legislative Council Chamber, Parliament. Scenes from A Midsummer Night's Dream, Henry V and Macbeth were directed by Terence Crawford, Erina Daniels and James Cain respectively.
View the  list of students selected to attend SGCNZ NSSP 2019. Read the Theatreview review of the performance. Photos are available for purchase from Memory of Light Photography. Video recording of the performance is available from Glass Gecko Films.
The 46 students, chosen from the 24 Regional and National SGCNZ University of Otago Sheilah Winn Shakespeare Festivals around the country, spent half of each day doing workshops with high calibre tutors and the other half rehearsing – starting from being cast on their first day, to performing 40 minutes from each play for the public just 5 days later. They were joined by the winners of SGCNZ Costume Design Competition and Music Composition Competition as Student Costumier and Composer.
---
Ministry of Youth Development Survey
Participant Feedback link: https://www.surveymonkey.com/r/Youth_Development_Initiatives
We are asking all participants in SGCNZ's activities – SGCNZ UOSWSF, SGCNZ NSSP, SGCNZ YSC, SGCNZ Dance Nimble Soles, SGCNZ PPWS and Competitions between 12 and 24 years old to complete this survey from the Ministry of Youth Development.
Funding from this source is contingent on us having at least 1500 people respond  about their experience of being involved (in whatever way – acting, directing, designing, mentoring, crew, front of house, MCs, Assessors…). From the age range, it is clear that it is not just those still at school.
Any queries about this, please contact Dawn Sanders, dawn@sgcnz.org.nz M: 027 283 6016 P: 04 384 1300
---
What is NSSP?
"It was a learning experience far beyond what I expected. It wasn't an audition and it wasn't just acting experience and tuition. SGCNZ NSSP taught me life-skills – tolerance, friendliness, camaraderie – that I couldn't have learnt better anywhere else." – Alexander Sparrow, SGCNZ NSSP 2010
"It was the most amazing experience in my life!" – Te Piha Niha, SGCNZ NSSP 2011
"Best week of my life. SGCNZ NSSP was a phenomenal experience that I will cherish forever." – Nick Erasmuson, SGCNZ NSSP 2015
SGCNZ's National Shakespeare Schools Production (NSSP) is a week-long intensive course, studying aspects of Shakespeare's works and three of his plays in particular under the direction of leading directors.
High calibre tutors take workshops with the whole group for half of each day. For the other half, the students, in their three groups, rehearse with their Director and group for the week, culminating in public performances of scenes from the play each cast has studied. Other experiences are added into the schedule!
A residential course held each year in the September/October school holidays, it is based primarily in boarding schools in a different part of the country each year, with the performances either in school halls, local theatres or, if in Wellington, sometimes in the Legislative Chamber of Parliament.
Who attends?
Potentially 1 person selected from each of the 24 Regional Festivals – Direct Entry Student
Another 22 students chosen from the National Festival
Plus the Costume and Music Competition Winners.
All must be 15 or older on 1 March of the year of NSSP.
The Process:
In order to capture an outstanding actor not in a group selected to attend the National Festival, the Assessors from each Region have the opportunity of selecting one student to attend NSSP by direct entry. (They may attend but do not perform at the National UOSWSF.)
In addition to the 24 chosen through this process, another 22 are selected to attend NSSP from the 550 or so participants in the National UOSWSF by 3 specially appointed Selectors, in association with the 3 Award Assessors.
The Winners of the SGCNZ/Morrison Trust Shakespeare Music Composition Competition and SGCNZ Shakespeare Costume Design Competition attend NSSP as Student Composer and Costumier. The constructed four winning costumes designs are exhibited at Shakespeare's Globe during July/August and are displayed during NSSP. At NSSP, indicative costuming is created by the Costumier to fulfil the concepts of the Directors, while the Composer works closely with the Directors to compose songs, linking music, background music and sound effects.
There is a fee of approx $1100 for each participant.
SGCNZ's NSSP is an invaluable total package of learning experiences, arts based and personally.
Throughout the lead up and week itself, the Directors, Workshop Tutors, CEO and others interacting with these students, evaluate them as team players who have a 'sponge-like' attitude and can gel as a group. Of the 48 highly talented students, a group of 24 of them is chosen to form SGCNZ Young Shakespeare Company, which travels to the Globe the following year.
"I felt more connected than I have ever before. Connected to myself and my feelings, connected to the people around me through honest relationships, and connected to my passion." – Isobel McKinnon, SGCNZ NSSP 2005
"This whole experience has not only given me the determination to venture out in the world to learn new things, but also to give back to my community by passing on my new-found knowledge to others, especially back to my own community." – Alana Haenga, SGCNZ NSSP 2011
"I can honestly say it was one of best experiences of my life. I have learnt so much in such a short space of time and made friendships with 47 boys and girls who I know will last a lifetime." – Sophie Barrell, SGCNZ NSSP 2016
---
PAST YEARS
SGCNZ NSSP 2018
The SGCNZ National Shakespeare Schools Production 2018 was held at Tolcarne Boarding Residence, Dunedin from 29 September-7 October 2018, with public performances on Friday 8 October at College of Education Auditorium, University of Otago, and Saturday 6 October. Scenes from Love's Labour's Lost, The Taming of the Shrew and Antony & Cleopatra were directed by Jonathon Hendry, Kim Morgan and Colin Spicer respectively.
View the  list of students selected to attend SGCNZ NSSP 2018
---
SGCNZ NSSP 2017
Scenes from The Winter's Tale directed by Robin Payne, The Comedy of Errors directed by Peter Hambleton, and The Taming of the Shrew directed by Eleanor Bishop were performed by some of NZ's most talented students. The SGCNZ National Shakespeare Schools Production 2017 was held at Scots College, Wellington from 1-9 October 2017, with public performances on Saturday 7 October at Te Aro Room, Mac's Function Centre, and Sunday 8 October at the Wild Theatre, Wellington Zoo.
View the list of students selected to attend SGCNZ NSSP 2017
---
SGCNZ NSSP 2016
400 years dead and still alive and thriving! Shakespeare's relevance is not in the least diminished and he keeps inspiring young and old. Need proof? Then you should have watched the two SGCNZ NSSP performances on 30 September and 1 October. The SGCNZ National Shakespeare Schools Production 2016 was definitely a show full of pure energy, young talent and, of course, the beautiful language and iconic characters who have survived the past 400 years, perpetuated and celebrated by SGCNZ throughout its 25 years. SGCNZ NSSP 2016 was held at Otago Boys' High School Hostel. On the menu in 2016 were: Macbeth directed by Stuart Devenie, Julius Caesar  directed by Colin Spicer and The Comedy of Errors  directed by Kim Morgan.
View the full list of students selected to attend SGCNZ NSSP 2016
---
SGCNZ NSSP 2015
Last year's SGCNZ NSSP was held at the Silverstream Retreat in Upper Hutt. The tightly packed week of Workshops and Rehearsals culminated in public performances featuring a 48 strong cast performing scenes from Pericles, Much Ado About Nothing and As You Like It. Performances took place on 3 & 4 October at Expressions and Parliament's Legislative Chamber.
View the full list of students selected for NSSP 2015
---
SGCNZ NSSP 2014
SGCNZ NSSP 2014 was at Otago Boys' High School in Dunedin from Saturday 27 September to Sunday 5 October.
View the full list of students selected for NSSP 2014

Read a review of SGCNZ NSSP 2014
---
SGCNZ NSSP 2013
For SGCNZ NSSP 2013, the 48 students spent the week working with directors Stuart Devenie, Rachel Henry and Tim Spite on scenes from Cymbeline, Pericles and Richard III. There were then two fabulous performances, one at Scots College and the other in the Legislative Chamber, Parliament. We hope you got a chance to see these fine young people at work.
Download the list of students selected for NSSP 2013
Read a review of SGCNZ NSSP 2013 here
---
Shakespeare Globe Centre New Zealand most gratefully acknowledges the support for the SGCNZ National Shakespeare Schools Production from the following: